What Are Retail KPIs & Metrics?
When it comes to KPIs, retail is unique. When people hear the word "retail," they often think about brick-and-mortar stores. However, with the prevalence of e-commerce businesses, retailers need additional KPIs to compensate for a rapidly growing and changing business landscape.
What Is a KPI in Retail?
A Key Performance Indicator (KPI) in retail is a quantifiable, clearly outlined metric that measures the performance of a business. To thoroughly evaluate operational efficiency and identify any weaknesses, many KPIs are needed across departments.
Brick-and-mortar stores traditionally focus on KPIs related to in-store business operations—like in-store customer behavioral data, promotional and sales metrics, and inventory levels. However, e-commerce has added an extra element as it's become critically important to understand how consumer preferences differ across channels.
Retail KPI Examples
Retail KPIs are integral to the success of a retail or e-commerce business. Without them, it's almost impossible for companies to gauge whether their efforts are fruitful or act on weaknesses to drive efficiency.
Below are some of the most effective retail KPIs to improve retail performance: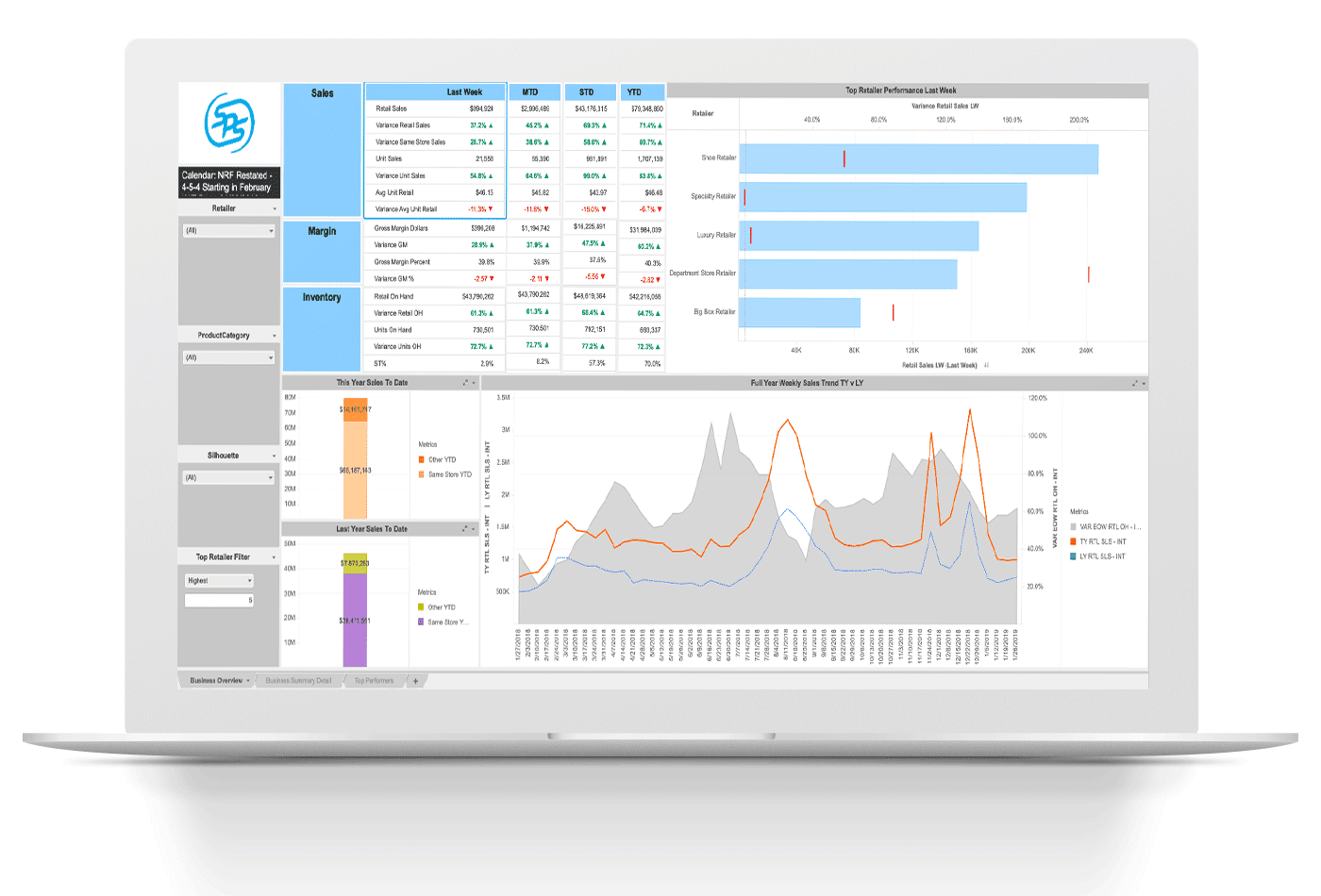 Gross margin return on investment – The gross margin return on investment calculates how much profit is generated on a specific set of inventory against its cost. It's a simple yet effective metric for gauging profitability. A higher GMROI indicates that businesses have a healthy cost per unit (CPU) and can balance that with impressive sales performance. Low sales GMROI can indicate poor inventory choice and inaccurate sales forecasting.
Year-over-year growth – Year-over-year sales directly compare any month, financial quarter, or year with the same periods from previous years. Year-on-year growth also takes the data from the year but divides it to reveal a percentage change. These are the simplest yet the most critical KPI metrics to measure success over a sustained period.
Online vs in-store sales – Both online and physical stores need to optimize price promotions, create a winning product assortment, and improve the user journey and experience to increase basket value. However, comparing in-store and e-commerce data helps businesses to know their strengths, weaknesses, and where to focus their efforts to boost profits and minimize wasted spend.
How to Improve KPI Performance in Retail
Retail KPI analysis is essential for business survival and growth. Not only do KPIs act as a benchmark for current performance but they also help inform a company's future trajectory and prevent them from going backward.
Applied effectively, retail KPIs have the potential to increase the value of each order and customer, and minimize waste in time, costs and inventory. To reap these rewards and improve KPI performance, businesses should:
Include real-time tracking
Real-time inventory tracking helps businesses reduce unnecessary spending and scale inventory up to meet current demand by accessing a daily, weekly, or monthly breakdown of what customers are buying and when. With this data, brands can reduce the amount lost on markdowns and out-of-season dead stock.
Access more accurate forecasting
With retail KPI dashboards based on historical trends and seasonal changes, brands can better understand item performance and forecast more accurately. When businesses have the right quantities of desirable products at the correct time, they can meet customer demand and increase satisfaction, minimize the number of underperforming products, and boost profitability dramatically – all with a few simple, informed changes.
Manage your assortment closely
If you have an item as part of your retail assortment, it's expected to perform according to certain sales targets. Simple insights like regional trends or store gap analysis can allow you to identify opportunities to place additional orders for high-performing products or quickly course-correct on low-performing products, placing you in a much better position to reach your sales targets.
Understand e-commerce trends
Many customers have pivoted their shopping habits to include a mix of brick-and-mortar and online shopping, but it can be difficult to understand these shifting trends. That's why it's important to understand which products are performing well online and in-store so you can plan your inventory and promotional plans accordingly.
Why Are Retail KPIs Important?
As the name suggests, retail KPIs measure business performance, the difference between being profitable and operating at a loss. Used effectively, retail KPI analysis helps set and elevate the standards of work across all sectors by analyzing which items are hitting and exceeding targets, as well as revealing any new or ongoing problems. However, it is crucial that businesses have sufficient information to develop insights and recommendations about these KPIs.
For example, businesses might be able to track units of sale, but without any other data points to reveal the remaining units on hand or the average price point, it's simply a metric with no context or obvious next steps. However, tracking the units sold and comparing that with the remaining inventory levels, or tracking the average price points to determine if a marketing promotion made an impact, reveals more valuable information about where the business is succeeding or failing.
This is why retail KPIs prove so effective. They transform data into actionable insights and drive key decisions across the business.
Retail Sales KPI Dashboards
Instead of relying on multiple systems and spreadsheets to track KPI data, analytics solutions draw all data into a single intuitive platform that uses dashboard displays to give an overview of performance across all departments, partners, and sales and inventory metrics.
The results include quicker decisions and an easier way to track and cross-compare performance across all departments and metrics.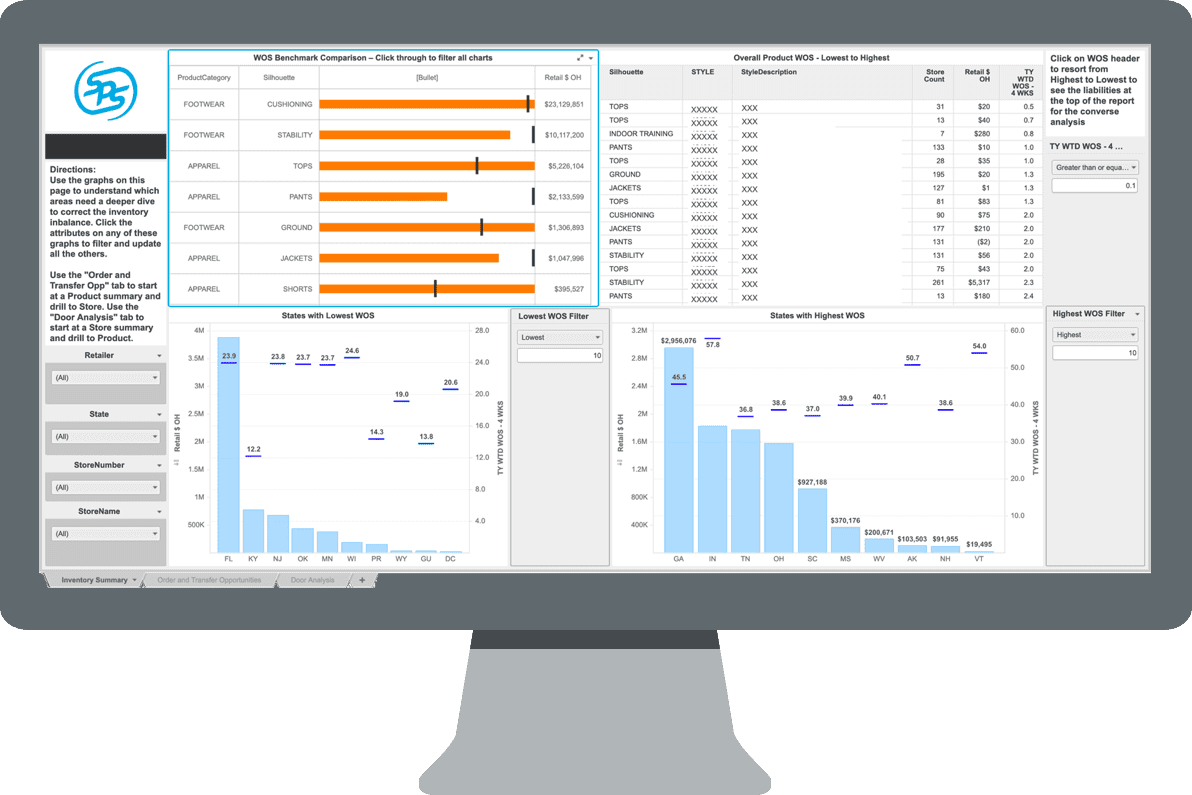 The key benefits of KPI dashboards include:
Seasonal trends and patterns – using historic and year-on-year data, retailers can proactively prepare for seasonal increases in demand or learn from past mistakes.
Real-time data – using real-time data, brands can capitalize on spontaneous trends and manage KPIs at a more granular level, which can make all the difference.
Intuitive dashboard – birds-eye views over performance allow for quicker and more effective decision making, capitalizing on arising opportunities or acting to limit waste at the earliest opportunity.
Reports – performance reports are created automatically, driving efficiency in decision making and supporting with gaining stakeholder buy-in.
Find out more about the benefits of retail analytics in our dedicated guide, or view SPS Commerce's retail analytics platform with integrated KPI dashboards.