Simplify product data sharing and automate EDI 832
Looking to save time on sharing EDI 832 and other product data with your retail partners? SPS Assortment helps you manage and share item data through a single, automated process. Support all your products, sales channels and retailers with our full-service solution.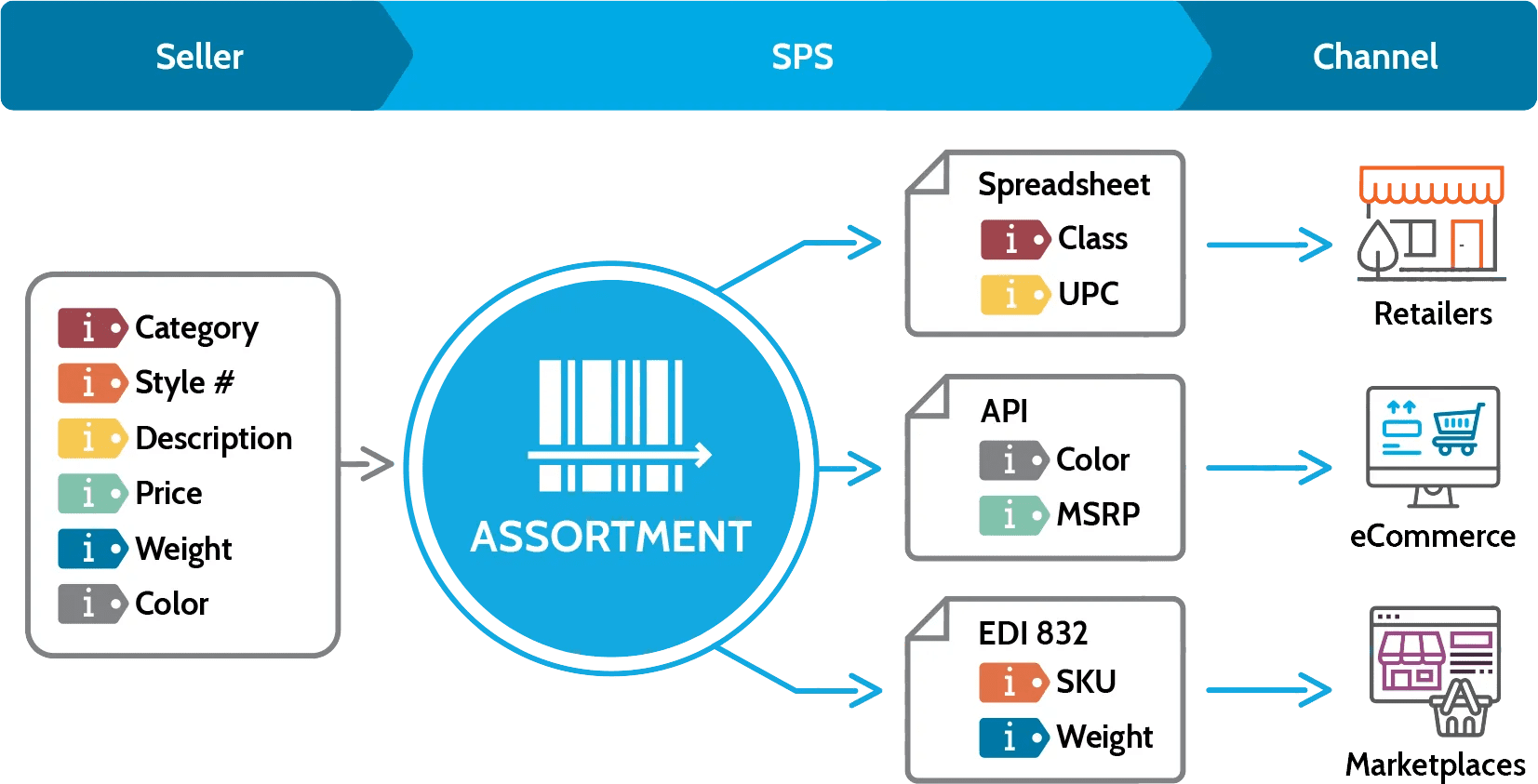 Get the industry's most complete product data-sharing solution
Buyers are requiring more and better data. Protect your reputation and become a strategic business partner with SPS Assortment.
Assortment is a comprehensive product data-sharing solution for all your trading partners across all your selling channels. Say goodbye to messy spreadsheets, portals and emails. SPS handles the manual, time-consuming tasks associated with sharing item data, so you can focus on what you do best.
Simply share your data once with SPS and:
Reduce manual work by offloading tedious product data management tasks to a team of experts
Maximize revenue when trading partners and consumers can access the product details they need
Easily add new trading partners or channels, giving your business the opportunity to grow and expand into new markets
Strengthen your trading partner relationships by delivering timely and accurate product data
SPS Assortment provides access to the largest retail network and unparalleled industry expertise. It goes beyond the capabilities of any product catalog or item management tool to share data directly with your trading partners. With a track record like ours, why go with anyone else?
Satisfy your trading partners' EDI 832 requirements
The EDI 832 provides product catalog information and pricing in an electronic format and is required by many retailers. If your retail partner requires the EDI 832, our Assortment solution can help.
With a single connection to the SPS retail network, you can comply with EDI 832 requirements for any retailer. Our team handles the technical details including EDI mapping, so you don't have to! Plus, we always keep your system up-to-date if your retailer updates or changes its requirements.
Get started with automated data sharing