Inventory Inquiry/Inventory Advice
EDI Document 846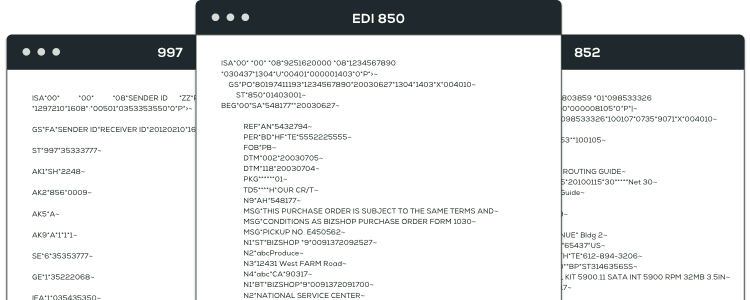 What is an inventory inquiry?
The primary purpose of the inventory advice (EDI 846) is for the supplier to provide the purchaser the amount of goods they have on hand and on order including future date. This allows better management of buying needs and is used primarily in a drop ship order management model to support e-commerce management.
The key data elements included in the inventory inquiry.
Identifying number
Inventory date
Product item identifiers/services such as UPC/EAN/GTIN needed with their respective quantities
Additional data that may also be included in the inventory inquiry are:
Out of stock items and restock dates
Discontinued products
Supplier warehouse locations with on hand amounts by item
Vendor number
Additional item identifiers such as buyer item number and vendor part number
Item description
Benefits
There are benefits to both the purchaser and the supplier of implementing electronic trading of the inventory advice. Many of these are dependent on how automated and integrated the transaction is for both parties. Some of the benefits include:
Enables the supplier to advise when product is out of stock or no longer being made
Allows better management of e-commerce drop ship
Communicates to the purchaser when the item will be available again if out of stock
The purchaser is able to better plan warehouse and store ordering
Enables the purchaser to manage these details on their website such as item out of stock, quantity available, or remove the item from the website
Supports the ability to order non-stock items/special orders
Eliminate the expense of manual processes.
Remove the time and effort of taking it on yourself. Start here.