Integrate 3PL Central with an EDI solution.
Gain efficiency, streamline operations and achieve scale with 3PL Central integrated EDI.

Automated with EDI integration for 3PL Central.
The SPS Commerce integrated EDI or web-base EDI solution connects your 3PL Central Warehouse Management System (WMS) to the leading EDI platform. With the SPS Commerce EDI integrated solution, you can:
Eliminate manual entry needs
Reduce errors and inaccuracies
Achieve 100% compliance with all your trading partners
Save money with a cloud-based EDI solution versus traditional EDI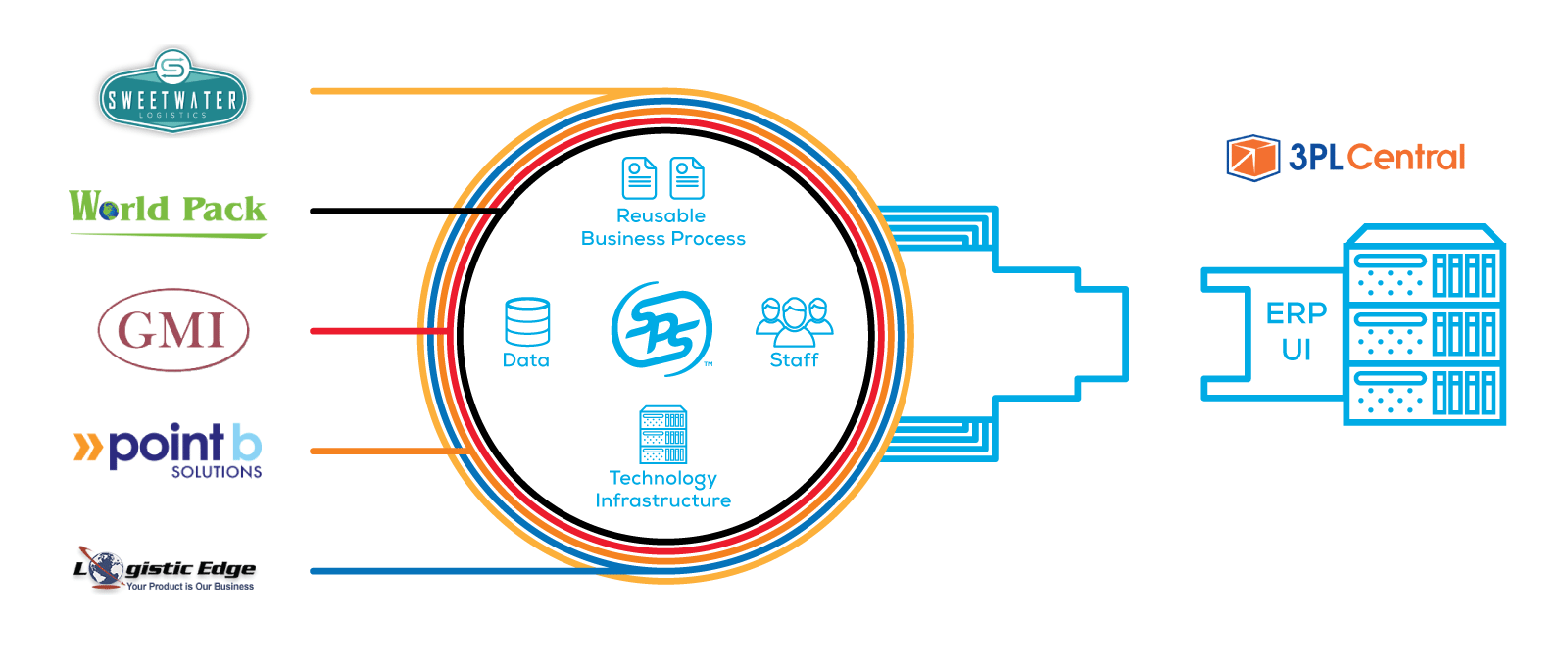 Also, if your company upgrades your software, changes systems or adds a new one, SPS Commerce can adjust your EDI solution to accommodate the new requirements.
What other users are saying about working with the SPS Commerce EDI solution:
"With GMI working with SPS and 3PL Central, we're able to integrate with most retail organizations' order processing and accounting systems, and it is our goal to get all of our clients integrated this way so that everyone will become as efficient as possible."
— Sam Gordon, logistics analyst at GMI Distribution
"Due to our WMS and EDI capabilities, Logistix has signed on new accounts that desired these services as part of their 3PL relationship."
— Erik Hinson, managing director at Logistix Worldwide
Decrease total EDI expenses
In-house EDI departments can be expensive to staff, support and maintain. Many companies discover that the monthly subscription costs of outsourcing their processes to an EDI provider like SPS commerce costs less than their traditional EDI solution. At least one major apparel retailer reduced EDI solution expenses by 75 percent after switching to SPS Commerce.
Scale to size effortlessly and efficiently
Integrate once with SPS Commerce and get immediate access to the largest network of thousands of pre-built connections to major retailers, grocers, suppliers and distributors. With our 3PL Central integrated EDI solution, add new trading partners quickly and scale along with future growth.
EDI support for any document, any partner
The SPS Commerce integrated EDI solution for 3PL Central provides native support for most common accounting documents, including purchase orders, invoices, credit adjustments and more. When you integrate your 3PL Central system to the SPS Commerce Fulfillment (EDI) solution, rapidly begin trading documentation between your trading partners.
Never worry about EDI compliance again
Many retail trading partners have unique EDI specifications that frequently change. When you integrate EDI with your 3PL Central system through SPS, you can eliminate your EDI backlog and keep up to date on requirements. SPS Commerce handles all EDI map or spec changes to ensure ongoing compliance for you and your retail partners.
Why choose SPS Commerce?
More than 75,000 businesses in over 60 countries around the world trust SPS Commerce to keep transactions running smoothly. To help support your business processes, SPS Commerce offers:
SPS can automate any EDI transaction with any trading partner.
A data center engineered to process huge surges in transaction volume.
Automate EDI transactions with any trading partner.
Integrate EDI with your 3PL Central warehouse management system and take the next step to a more streamlined and efficient operation.