Partner community
View all business and referral partners in our network.
Learn more about our joint solution
Company Name: Celerant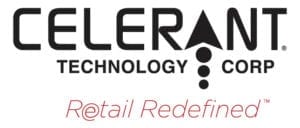 Company Description: Celerant Technology matches retailers with customized, comprehensive retail software solutions. Business Intelligence, POS, E-Commerce, Mobile Applications, and more – all managed from a single platform.
Market Emphasis: Retail Technology
Company Website: www.celerant.com
Twitter: @CelerantTech
Facebook: Celerant Technology Corp.
LinkedIn: Celerant Technology