Time to use data to win more business.
Leveraging POS Analytics to Boost Sales
We recently hosted a webinar featuring sales experts from The North Face, Fanatics, Crocs, and Vans that shared their strategies around using data to increase sales and win over their buyers. If you have the time, you should definitely watch the video and hear from the pros themselves. But we know you're busy, so if you only have a minute or two, check out the highlights below.
How can you spot sales trends even within the disruption of Covid-19? [7:15]
Now more than ever, it's important to capitalize on the areas where consumers are buying more. The North Face used their POS data to discover a huge uptick in hiking and camping gear with consumers wanting to get outside more. With this information, they were able to let their buyers know where the demand was most intense and make products available for them to purchase. Plus, help your buyers provide the best customer experience by avoiding out of stocks.
How do you train your teams to use POS data? [10:11]
With SPS Analytics, the solution comes with pre-built dashboards and trainings to get you started right away. Once you understand the questions you are trying to answer for your business, it's time to utilize the live webinar trainings and one on one consultations with our Retail Intelligence team is what helps take it to the next level with business specific customized dashboards to make the solution work best for them.
Why is understanding product gaps across retailers beneficial to suppliers? [5:35]
Having one view of multiple retailers' POS data allows you to see overarching trends and provide data backed recommendations to your retail partners to make both you and your trading partner, more profitable. Even during disruption, forecasting is easier when you have POS data to dive into.
How do retailers benefit from their suppliers using POS data? [8:23]
Buyer meetings instantly become data driven conversations when you have the knowledge to back replenishment recommendations up. This builds the foundation for trust and true partnership, when you're able to save your retailers on time and headaches.
How do you identify potential sales opportunities? [6:10]
By diving into the data, The North Face was able to see one style was selling really well at a particular retailer who bought a small volume of products. They checked inventory and had their sales team reach out to similar retailers to sell that same product into other stores to maximize profits for both parties.
How can SPS Analytics save your teams time? [12:02]
Managing data for a retailer partnership can be a full-time job. With SPS Analytics, Vans is able to avoid adding another headcount to their team. By consistently updating, normalizing and organizing your data for you, your team can spend time on actually spotting the insights within the data. Plus, you can set up subscriptions and alerts for anything your leadership team wants to see regularly or something your sales team wants to keep an eye on.
More questions for our panelists? [32:38]
You're probably not alone! Check out our Q&A with suppliers just like you getting answers to the questions you're wondering about. 
Want to learn more about SPS Analytics?
Keep reading for more information on the tool that can help you be the hero for your sales team and overall business.
How has the use of POS data allowed your team to provide actionable insights regarding your retailers' assortment?
"For us, our retailers really appreciate the partnership that we can bring to the table and making our meetings more knowledge based and factual so that we can make really smart strategic decisions."
– Lori Arakawa, Senior Sales Analyst, Vans
SPS Analytics collects, validates and presents your retail data so you can spend more time bringing value back to your business.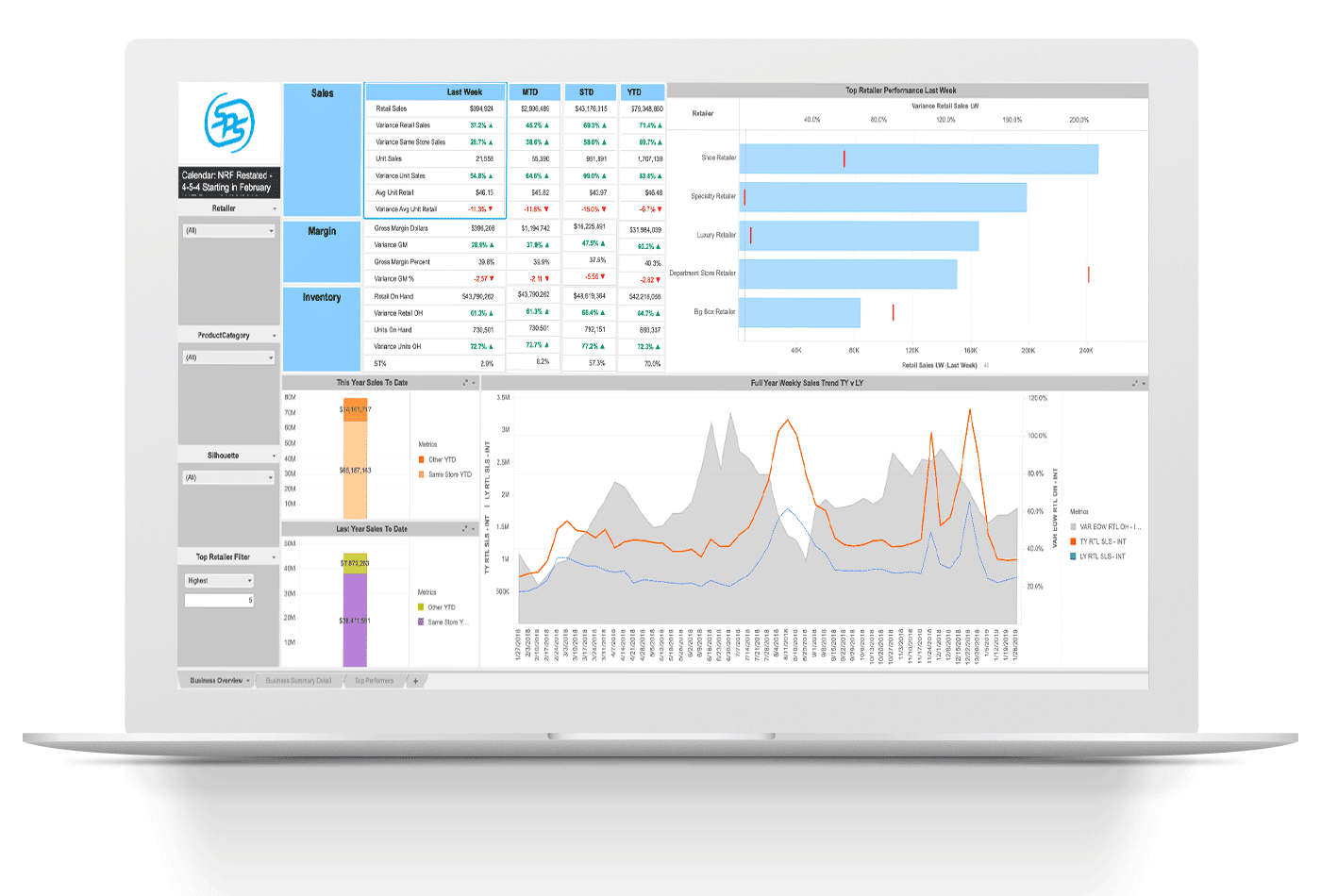 Discover Sales Opportunities
Easily see what is selling through quickly and bring the same product to similar retailers for increased profits on both sides
Proactively Identify risks
Make stockouts a thing of the past with customized alerts on inventory so you can fulfill replenishment orders before the shelf goes empty
Forecast with Increased Accuracy
Use data from multiple years to avoid skewing plans based on retail disruption
Customize Your Dashboards
Whether you're working in our solution or feeding data into your BI tool, the sky is the limit when it comes to personalizing views to your business needs
Win Over Your Buyer
Buying organizations are busy, so when you're able to make recommendations based on data, you become a key strategic partner that they're going to trust.
What's all included with SPS Analytics?
Data acquisition from all available trading partner resources
Transforming your data into one consolidated format and easy to understand view
Data validation to proactively ensure up-front accuracy 
Error prevention with behind-the-scenes data correction
On demand product training so you can learn on your own schedule
24/7 access to a full team of data experts and retail intelligence consultants
Platform personalization with your retail data trend experts
Trading partner outreach for data collection, problem solving and tool engagement
Retail partner specific trainings led by an SPS trainer
Pre-built data visualizations with item and location cross referencing
Ad hoc reporting on high level trends and product drill downs
Easy integration into other analytics or data visualization tools (i.e. Tableau, Power BI, or MicroStrategy)
Multi-device and exportable report capabilities
Proactive monitoring capabilities with scheduled reports and customizable alerts
Chat with a Data Specialist about SPS Analytics.
Fill out this form if you'd like to be contacted by a specialist to learn more about what to do with your data or receive a product demo.
Want to learn more about the power of collaborating with your retail partners?
In our new research study, created by Coresight, we cover the topics of:
How can supply chain collaboration improve allocation?

How do you know when assortments should change?

Why don't retailer portals provide sales insights?
Download our new Coresight study to learn the answers to those questions and see how you truly can quantify the power of supply chain collaboration.