SPS Commerce Fulfillment
By choosing an SPS Commerce EDI integration, you can automate processes and eliminate error-prone manual data entry that slows down your operations and costs you money. Set your business up for scalability and potential for growth with Fulfillment EDI automation.
Get clear, simple answers to all your EDI questions.
No sales pressure. No commitment.
Reduce or eliminate manual data entry processes
Seamless data interchange with Epicor ERP
Achieve compliance with all trading partner requirements
What to expect with an SPS Commerce EDI integration solution for Epicor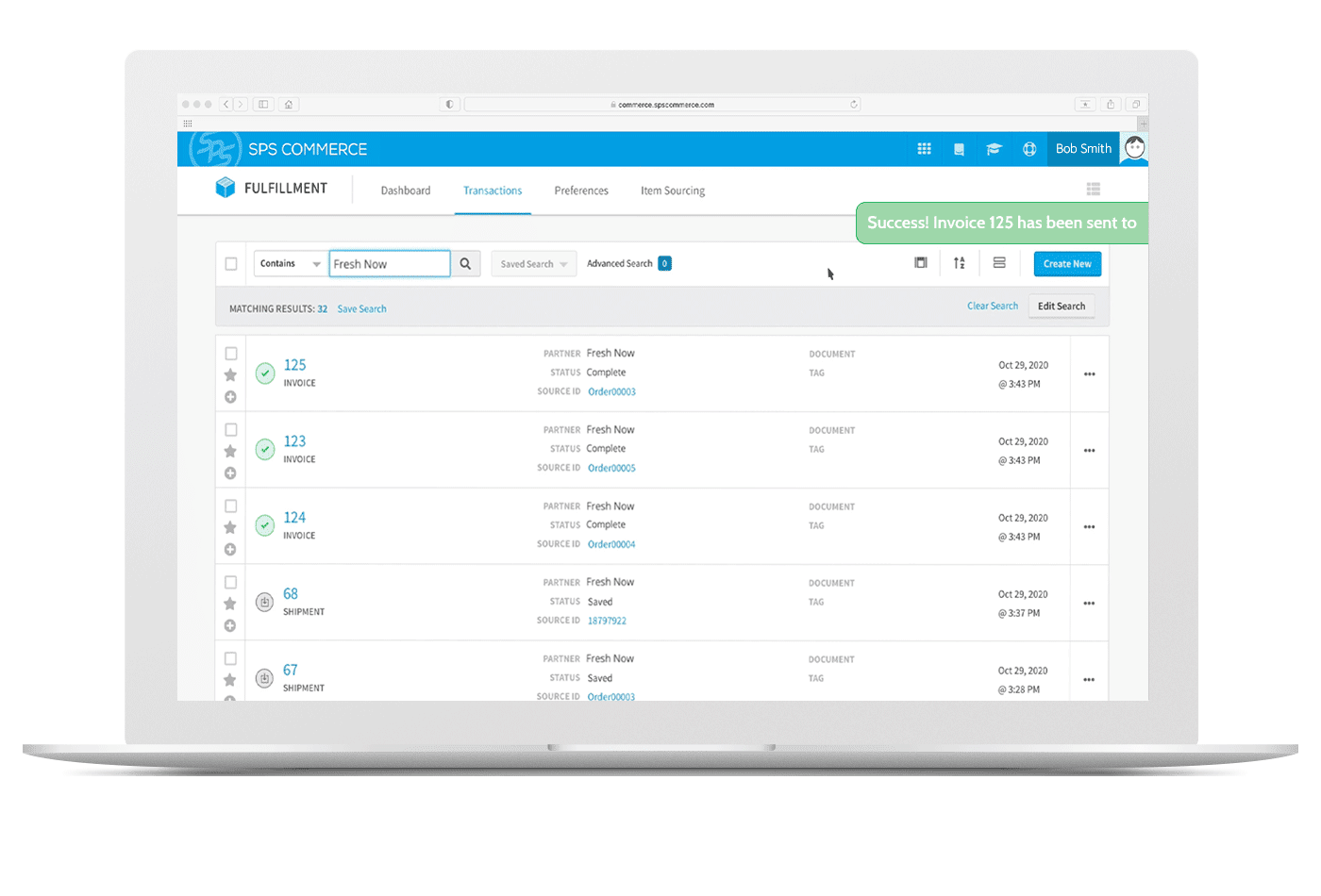 Let SPS worry about EDI changes
Never fuss with maps, updates or spec changes again. Once you connect to the SPS network, it's always fully-managed for you.
Redirect staffing costs to other pursuits
Stop throwing money on perpetual administrative and data entry troubleshooting. Free up staff to focus on priorities that grow the business instead.
Give stakeholders full visibility
The status of orders can be tracked directly in Epicor ERP, eliminating the necessity for email updates and phone calls.
Position your business for scalable growth
Wipe out the manual processes that lead to bottle necks and eliminate data silos. Improve data accuracy for better business decisions and forecasts.
Minimize errors & chargebacks
Keep accurate order and transaction information no matter how busy things get. Build trust with all your trading partners, major or minor.
24/7/365 expert support
Contact your SPS Commerce team anytime, day or night, via phone, email or chat. Get expert, one-on-one help at the time you need it.
"SPS works hard at managing the complexities of trading partner implementations, making them fairly seamless with a minimum amount of issues.  They succeed in my opinion.  Additionally they have great tools to provide visibility to and management of our data.  When you add in the responsive support when issues arise, it's been a great partnership.  SPS certainly helps me manage my day to day as far as EDI is concerned."
-EDI Coordinator, Tree Top Inc.
Wondering how SPS Commerce compares to other EDI providers?
Full-service EDI providers like SPS Commerce deliver EDI technology and associated staffing resources responsible for customizing, optimizing and operating your Epicor EDI solution. Here are some key features of the full-service EDI solution for Epicor:
Full-Service EDI Providers
A full-service provider, like SPS Commerce, has an expert team that handles ongoing management of your EDI solution.
Take ownership of understanding your trading partner requirements and making map changes. The SPS team actively manages 9,000 changes from retailers each year.
Manage end-to-end EDI testing and ensures your initial data flow with trading partners is successful.
Communicate directly with your trading partners to manage connectivity, setup, requirements, updates and support efforts.
Proactively monitor and optimize your solution to prevent errors and minimize data entry.
A team of trading partner, system and EDI experts is available 24×7 in the channel of your choosing.
Managed EDI Service Providers
Your in-house team is responsible for the operational and technical details of managing your EDI solution.
When a trading partner requirement changes, your team is responsible for changing the EDI maps. Requirement changes are extremely common in retailing.
Require your team to coordinate EDI testing with your trading partners and validate data flow.
Your in-house team communicates with trading partners about EDI connectivity, setup, requirements, updates and support.
Your in-house team is responsible for monitoring and optimizing your EDI solution.
You will be responsible for contacting support regarding any issues. Real-time, expert support is often limited.
And best of all… SPS Commerce works with any retailer, grocer, distributor, e-commerce platform or marketplace
If a company uses EDI, we can add them to your account. It's just that simple. In fact, with 115,000 trading partners mapped to our platform already, most connections can be set up and ready to go in a matter of hours. See who uses the SPS EDI network here.
The secret to our success is investing in yours.
SPS Commerce has been pioneering retail automation since 2001 –– everything from EDI to full-scale retail change management. In that time there's one thing we've learned: Innovative technology alone isn't enough to thrive in today's market.
That's why we provide a full-service continuum of services to all of our customers. When you partner with SPS, you're not just getting best-in-class technology, you're also getting a team of retail supply chain experts who are there to help plan, execute and manage it all for you. If you use EDI, how do you manage the different components (connectivity, translations, system automation)?
How many orders do you process per month?
Do you outsource your warehouse operations through a 3PL?
How much time and resources are allocated to manage the EDI components?
For more information, please contact your Channel Manager or visit the SPS Partner Portal.