Get tailored recommendations with multi-million-dollar impacts
Omnichannel order fulfillment is complicated. Retailers lack the data they need to efficiently buy items, place orders, receive and distribute inventory, pay invoices and manage trading partner performance. Our supply chain executives help identify key areas of opportunity across all sales channels, and profitably deliver exceptional customer experiences.
Attending Retail Innovations Conference & Expo? Schedule time to meet with an SPS representative at the show.
McCormick Place, Chicago, IL
Make decisions with confidence
You need to profitably meet customer expectations across all your sales channels. But you lack the data related to the items you buy, orders you place, and inventory moved throughout your supply chain. SPS helps you gather all the information needed to integrate your retail supply chain, so you never have to make decisions with partial information.
Tailored recommendations with multi-million dollar impacts.
By connecting with one of our supply chain executives, we work with you to analyze your day-to-day operations to identify key areas of opportunity to improve and automate data exchange. You will receive a detailed report of current business processes and our recommended changes, as well as a tailored launch plan for your business to implement changes that enable:
Proactive order management
Inventory efficiency and cost reduction
Improved invoice reconciliation
Exceptional customer experience
Enhanced supplier performance
Our supply chain executives have a combined 100+ years of industry experience and have helped buying organizations achieve:
Inventory reduction potential
Reduction of time spent reconciling invoices
People, processes & technology to optimize your supply chain
Get the technology, expertise and resources needed to proactively manage the replenishment order process. We'll enable you to gain access to the item, order and sales data that is essential to running your business profitably.
Tap into our retail supply chain expertise
SPS supply chain experts evaluate your business and recommend a solution based on industry best practices. We'll partner with you to identify and prioritize areas of highest impact.
Leverage our proven process
We tailor our process based on the unique needs of your business. Our 500+ vendor onboarding experts directly engage and onboard suppliers to meet your requirements. We utilize a suite of tools to ensure clear communication while driving supplier adoption. Along the way, you'll have access to a dashboard that tracks the real-time onboarding status of each of your suppliers.
Access our industry-leading technology
Finally, we provide technology and tools for you and your supplier community to automate the exchange of item, order and sales data. In some cases, we recommend leveraging existing technology. In other cases, we'll help you and your suppliers adopt new technology that fits your needs. Either way, our team will remove technology as a barrier to your program's success.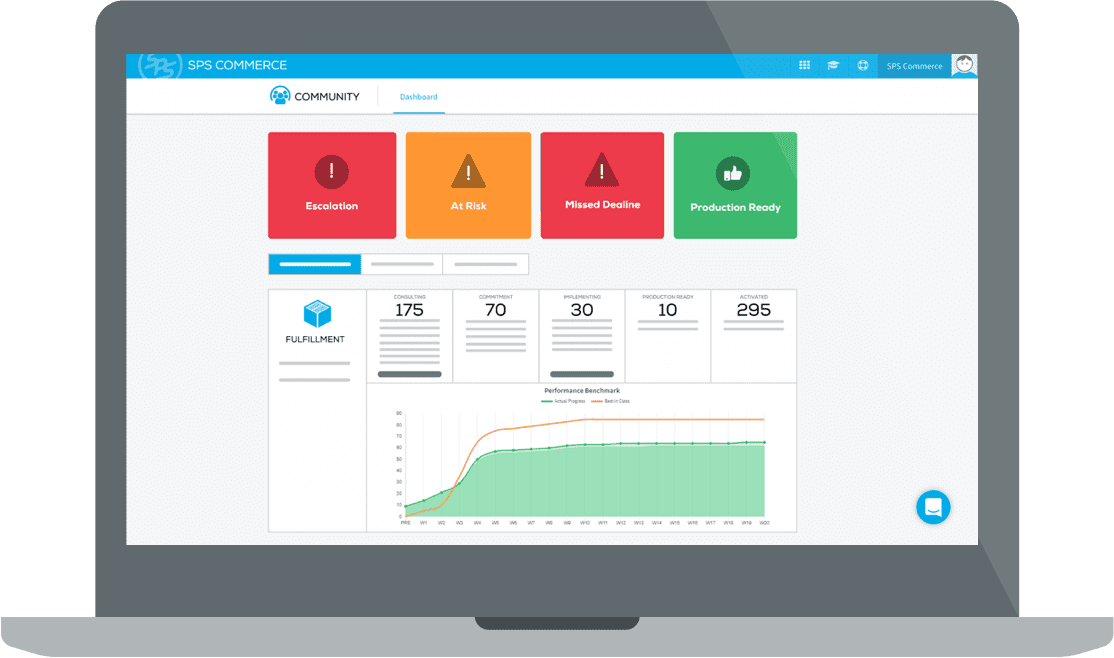 We know when an order will be delivered and if it shipped in full. We know if and when we would run out of stock. We can set consumer expectations. And we know when the stock situation would recover.
– Scott Brenner, Procurement Manager at Thrive Market
Connect with an SPS Commerce representative to schedule a meeting with one of our supply chain executives.