Partner community
View all business and referral partners in our network.
Company Name: Vision33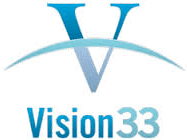 Company Description: Vision33 is a leading enterprise resource planning (ERP) solutions provider, focused on providing SAP solutions for growing businesses and subsidiaries of large enterprises. As the largest SAP Business One reseller in North America, Vision33 provides the right balance of software and world-class consulting and support services for customers to better manage and grow their business.
Market Emphasis: SAP Business One, ERP, SME software solutions.
Company Website: http://www.vision33.com

Facebook: Vision33
Twitter: @vision33_SAP
LinkedIn: Vision33

Google+: Vision33
YouTube: Vision33