Partner community
View all business and referral partners in our network.
Company Name: Solution Dynamics, Inc.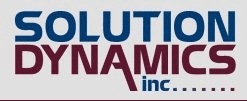 Company Description: Solution Dynamics is a Microsoft Dynamics NAV sales and implementation partner specializing in meeting the needs of small to mid-sized businesses. The 30-year-old company complements world-class business software with a highly experienced professional services team, allowing the company to align its solutions with each client's unique needs and objectives.
Market Emphasis: Microsoft Dynamics NAV integration and professional services for small to medium-sized businesses.
Company Website: www.solutiondynamics.net
Twitter: @NAV_ERP
LinkedIn: Solution Dynamics Inc
YouTube: RussBengtson