Partner community
View all business and referral partners in our network.
Company Name: eBridge Connections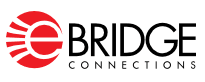 Company Description: eBridge Connections delivers powerful, cloud-based accounting integration solutions that automate vital business processes and eliminate the need for manual data entry. The eBridge universal integration platform supports over 40 accounting and ERP systems and connects with popular eCommerce carts and marketplaces, thousands of EDI trading partners, and the leading CRM applications.
Market Emphasis: EDI Integration, eCommerce Integration, ERP Integration, Accounting Integration, CRM integration.
Company Website: www.ebridgeconnections.com
Twitter: @eBridgeConnects
LinkedIn: eBridge Connections
Google+: eBridge Connections
Youtube: eBridgeConnections
---
One connection, limitless growth.
SPS Commerce, a leading provider of enterprise retail cloud services, and eBridge Connections, an experienced integration expert and Sage certified partner, have partnered to develop a Fulfillment (EDI) Integration for Sage 300. This cloud service allows Sage 300 users to integrate their system to the SPS Commerce Universal Network and immediately connect with all of their trading partners. By eliminating the need for building individual point-to-point connections with each trading partner, this offering saves considerable time and financial resources and provides a platform for business growth.
Experience these immediate benefits and more:
Quickly connect to the industry's largest retail trading network with over 75,000 organizations.

Expand your trading partner relationships easily and effortlessly.

Maximize productivity with an integration built specifically for Sage 300.

Reduce upfront fees and total cost of ownership with a cloud-based solution
Supported Fulfillment (EDI) documents
Maintain relationships with all your trading partners seamlessly and consistently with the latest EDI technology and document standards for exchanging data. Supported integrated EDI documents include the following. All trading partner required documents are available for processing via the SPS Fulfillment solution.
850/875 – Purchase Order

810/880 – Invoice

856 – Ship Notice/Manifest (ASN)

GS1-128 Shipping Label
Want to learn more?
Speak with a representative about SPS Integrated Fulfillment (EDI) for Sage 300.