2017 SPS Commerce United Way campaign week has kicked off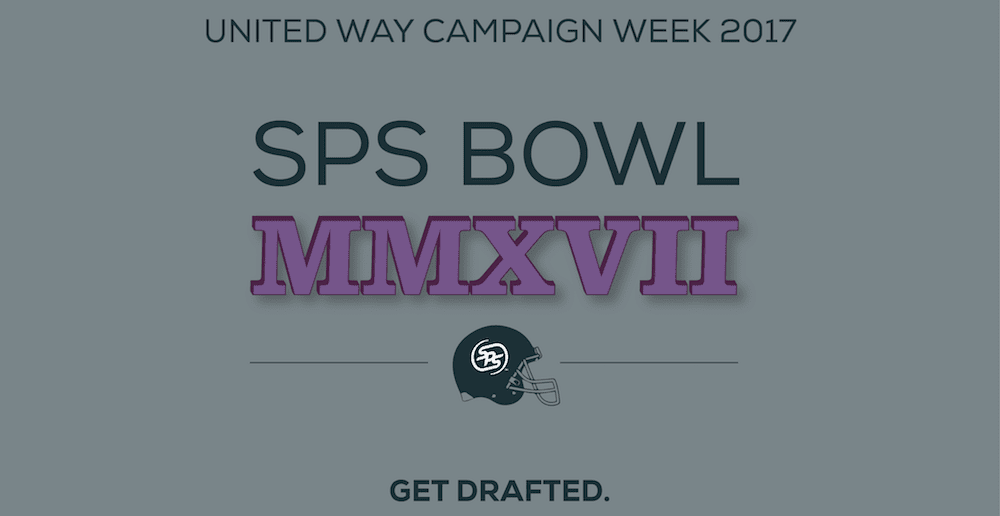 Capitalizing on the fast-paced, energetic environment within our walls, theming around our annual United Way campaign is always an important and fun aspect, making SPS Commerce giving unique and exciting! Instead of using a 'tug on the heartstrings' approach, we value giving our employees a strong education around United Way and the impact donating has on our own communities, all while having FUN! Last year, the SPS Commerce United Way charity fundraising campaign collectively raised $120,193.57!
Each year, the United Way campaign week is uniquely themed. This theme essentially sets the tone for the entire week; branding, messaging, events, giveaways, etc. are all set in accordance with the theme, meant to energize and excite employees to participate and give back!
As Minneapolis is hosting the Super Bowl this year, it seemed only fitting to play up on the festivities that will transpire in our own backyard in February. The 2017 SPS Commerce United Way campaign is brought to you Super Bowl style – aptly named the MMXVII SPS Bowl. Our first ever 'Draft Day' event for new hires included guest speaker and former Minnesota Vikings player, Anthony Bass. Kick-Off Bingo on Friday of last week brought over 350 SPS'ers together to learn more about United Way and enjoy a free lunch catered by Raising Cane's. SPS'ers in Minneapolis are especially looking forward to our signature HOP-TO-IT Brew Off event on Thursday of this week where those that donate at a certain dollar threshold are invited to tailgate on the lawn of our building. Complete with tents, heat lamps and food, over 20 SPS'ers homebrewers will be serving their beers at this event. Text-to-vote polling will crown the 2017 King or Queen of Beers!
To further add to the theming, each floor in Minneapolis, as well as our New Jersey and Toronto offices, have stuffed animal mascots to help represent this week. Search the hashtag #SPSGIVESBACK on Twitter or #SPSGIVESBACK on Instagram to meet the mascots and get a glimpse into campaign week thus far. Our mascots are blowing up Twitter and Instagram! The mascot that makes the biggest splash, with the most posts and garnering the most shares, wins their floor a catered happy hour! Which mascot will be the winner of the MMXVII SPS Bowl social media contest?
With a week full of educational, volunteer and thank-you events, SPS is excited to be in the midst of yet another United Way campaign. We are going to push, fight and defend our communities, by contributing our precious time and hard-earned dollars to give back in a BIG WAY.
Stay tuned to the SPS blog for more on the SPS Commerce United Way campaign. To get more relevant updates like this, follow SPS Commerce on Facebook, LinkedIn and Twitter.

Lauren Graf spearheads internal employee engagement events and activities for global team SPS. Her articles provide an inside look into day-to-day life at SPS Commerce.

Latest posts by Lauren Graf (see all)
GET WEEKLY UPDATES DELIVERED TO YOUR INBOX.
Subscribe to our blog to receive retail and supply chain news, valuable resources, expert tips and more.
Evaluating Your EDI options: 7 Building Blocks of Full-Service EDI
Get insights on choosing the right EDI solution for your business and the seven components vital for truly full-service EDI.