SPS In:fluence 2016 Sponsor Media Wall Presentations: Day One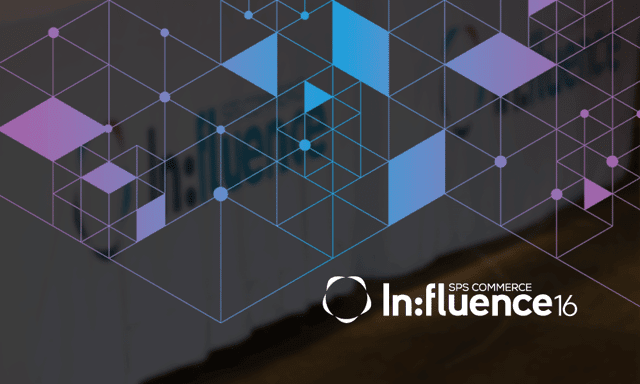 Unparalleled content and thought-provoking programming are two ways to describe the speaking sessions and keynote presentations offered by SPS In:fluence 2016. Among these talk tracks also lie a more organic form of industry conversations taking place at the Minneapolis Convention Center this week – Media Wall Presentations.
Nestled in the lounge area of the SPS In:fluence Expo Hall, our business partners and sponsors will cover a variety of supply chain topics over the next couple days. In case you missed it, here's a quick recap of Tuesday's Media Wall Presentations:
"Stairway to Customer Experience Nirvana," Deploying a Coherent Omnichannel Strategy – Branden Jenkins, General Manager of Global Retail, NetSuite
Patching together multiple systems in an attempt to streamline operations is risky and inefficient. Branden Jenkins demonstrated how NetSuite can help organizations go back to basics and set up a solid foundation for success in today's retail landscape.
E-Commerce is Shipping! – Tim Casey, SVP of ProShip, Inc.
Upfront deliveries, easy returns and more: these options differentiate e-tailers from their competition. With ProShip, you can harness solutions that get your consumers their products at the best price in the shortest amount of time.
Streamlining Fulfilment in the Age of Digital Retail – Tom Rau, Sales Operations Manger, Salespad
By integrating to Salespad for Microsoft Dynamics GP, users will minimize manual processes while simultaneously improving their organization's efficiency. Their integration to QuickBooks is set to launch in the near future as well.
From Omnichannel to On-My-Channel (Customer Driven Marketing) – Doug Berg, Founder & CEO, MyAlerts
Closing Wednesday's Media Wall Presentations was Doug Berg from MyAlerts, who touched on marketing's changing role in today's retail landscape. He discussed how major companies like Home Depot and Neiman Marcus are modifying the way the way engage consumers through content marketing.
Two more media wall presentations are set for tomorrow. If you're onsite at SPS In:fluence, make sure you don't miss these dynamic conversations.

Claire Bramel works with SPS Commerce sales teams and business partners on a variety of marketing efforts.

Latest posts by Claire Bramel (see all)
GET WEEKLY UPDATES DELIVERED TO YOUR INBOX.
Subscribe to our blog to receive retail and supply chain news, valuable resources, expert tips and more.
Watch the EDI 101 Webinar Replay
Learn about EDI and 5 signs your business could benefit from it. Class is in session when you have 23 minutes to watch.
Did you like what you read? Get updates like this delivered directly to your inbox.
Subscribe to our blog to receive weekly retail and supply chain news, valuable resources, expert tips and more.