Retail technology investment plans contradict goals, priorities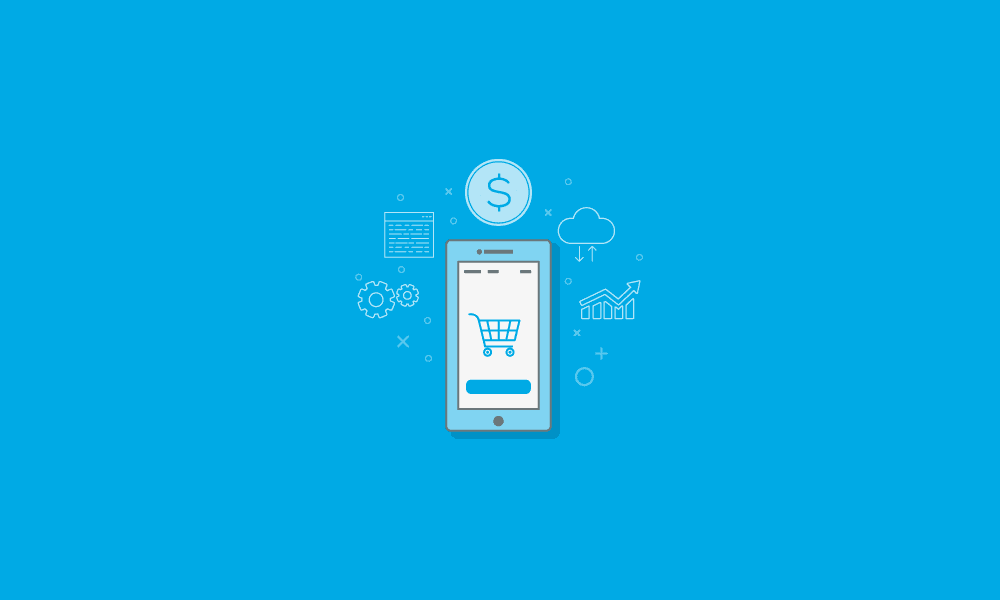 Our benchmark report, Retail Insight: Moving Beyond Omnichannel, has examined a number of different attitudes in the retail world and toward omnichannel strategy, and expectations of the consumer shopping experience.
We've been carrying out this benchmark report withe Retail Systems Research (RSR) every year for the past five years. Over that time, we've seen retailers, distributors, and manufacturers increase their investment in different areas, like two-day shipping, in-store pickup, and allowing customers to return orders via the same channel they bought it. Despite the increase, though, many organizations are still not claiming victories in most of these areas – treading water instead of leaping forward in their market share and profitability.
Retail technology investment plans
Throughout the entirety of the most recent results, retailers, suppliers and manufacturers have shared how they want to increase future growth. A lot of their current strategies and plans have focused on e-commerce, fulfillment and making their customers happy.
But when we delve into the data, we see an actual lack of interest in investing in the technology and processes that could help them actually achieve their e-commerce growth and fulfillment goals. Without the investment in technology and software that carries out the tasks needed for optimal performance, it's going to be harder to keep consumers happy, especially as their digital habits evolve at breakneck speed.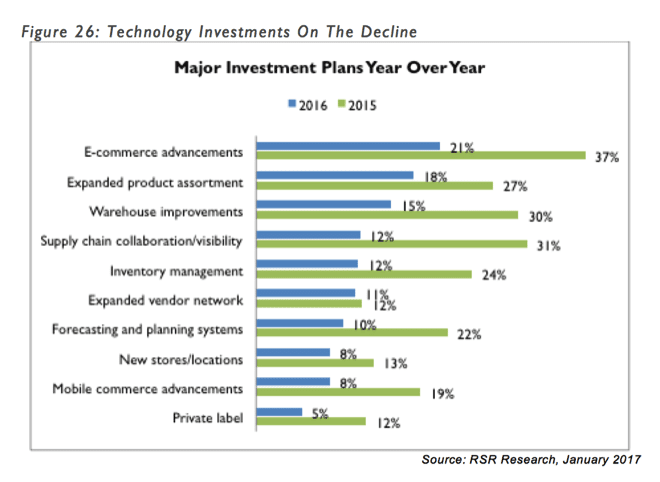 As you can see, major retail technology investment plans for the year are down compared to last year.
What? Wait a minute!
In page one of the RSR, when we asked about the "External Forces Impacting Your Business Over the Next 5 Years," the top answer was "consumer buying preferences." Consumers have more purchasing options than ever, making it extremely easy for them to simply shop someplace else if you aren't adequately serving their needs. They want e-commerce options, expect an endless aisle, assume you have an omnichannel presence – and they want more faster, cheaper, with better service.
Another top external force listed was "greater competition." That competition is coming from other retailers and brands who are also trying to tap into those consumer buying preferences. It's a race to see who can offer more products, at the best price, through the right sales channels and with the most valued delivery options.
That means retailers, suppliers, and manufacturers know their competitors are giving them a run for their money, providing consumers with an alternative customer experience, giving them more choices, faster delivery, and possibly better service.
Yet so many respondents have decided to spend less on the technology that would keep them in the running against their competitors.
Do they already have the right tech?
So if consumer buying preferences are their main focus, and they don't have plans to invest in technology this year, that must mean that they already have what they need to satisfy shopper expectations. The answers we received to other questions later on in the survey indicate that's not the case, as many are lagging behind on what should be now be a base level of services.
Investment in tech for modern retail is vital
Companies can't expect to do better on these when they aren't making the necessary technology, software and process investments to do so. You can commit to improvement as a mindset all you want, but without a plan, a budget and the allocation of equipment, staff and technology resources, the improvements will not materialize the way you hope.
Companies that want to actually focus on their e-commerce and fulfillment should allocate their budgets toward retail technology investment and improvement, and do so with a sense of urgency. Without it, your customers may seek out retailers who are making improvements to assortment, service and delivery options. That's the 45 percent of retailers that offer ship-to-store and the 38 percent that offer two-day delivery, and other omnichannel winners making the right changes to fulfill modern shopping expectations. Will you be one of them?
To get more relevant updates like this, follow SPS Commerce on Facebook, LinkedIn and Twitter. You can also get retail and supply chain news, resources, expert tips and other valuable updates delivered directly to your inbox weekly for free by subscribing to the SPS Commerce blog.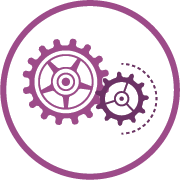 Ready to experience infinite retail power?
Learn how SPS solutions support retail and enable a more agile supply chain or contact SPS today for a consultation.

Jamie Thingelstad is the Chief Technology Officer and Senior Vice President of SPS Commerce. Previously, Jamie worked as CTO for 8thBridge, Wall Street Journal Digital Network, Dow Jones/Enterprise Media Group, MarketWatch and more. Jamie has an impressive track record with growing technology platforms and a remarkable breadth and depth of technology expertise.

Latest posts by Jamie Thingelstad (see all)
GET WEEKLY UPDATES DELIVERED TO YOUR INBOX.
Subscribe to our blog to receive retail and supply chain news, valuable resources, expert tips and more.
Watch the EDI 101 Webinar Replay
Learn about EDI and 5 signs your business could benefit from it. Class is in session when you have 23 minutes to watch.
Did you like what you read? Get updates like this delivered directly to your inbox.
Subscribe to our blog to receive weekly retail and supply chain news, valuable resources, expert tips and more.