Adding drop ship: Three technology approaches Every day, countless more retailers are making drop ship fulfillment a requirement for any new supplier. As a result, more vendors are deciding to offer drop shipping and trying to figure out the best way forward. Some suppliers consider this as a painful and non-value added process. However, others see supporting drop ship fulfillment as yet another opportunity to grow business within a retailer's brick and mortar channels.
Some process and technology updates will be required in doing so. As I detailed in my first post on the subject, process updates range from having to handle a higher volume of smaller orders and more frequent status updates to managing multiple branded retailer packing slips.
So what is needed technology-wise? Let's back up a step. In a nutshell, drop ship fulfillment requires absolute transparency and cooperation between trading partners. All must be able to seamlessly exchange electronic documentation and intelligence — everything from item setup and inventory position to purchase order, order statuses, invoice and item information to real-time shipping alerts, order tracking numbers and inventory feeds — to keep consumers happy at the end of the chain.
This involves ongoing communication between back-office systems across multiple organizations, and EDI or another fulfillment option to make it all possible. As a supplier, you can manage the technology side of things in one of three ways:
Do it yourself. If you have the resources in house, you can choose to handle the integration, data exchange and updates yourself. This approach helps to keep up-front expenses down, but scaling to full capacity can take some time. And since IT is not a core competency for most suppliers, the resources required for a DIY approach can cost more in the long run compared to other options.
Outsource to a 3PL. A growing number of third-party logistics providers (3PL) are getting into the game, furnishing technology and staff to act as a fulfillment liaison between suppliers and retail consumers. The upside is that suppliers can scale quickly and capitalize on the 3PL's resources and better shipping rates, which can cut shipping costs by 40% or more. The downside is that the outsourcing component is only partial. The supplier is still responsible for getting orders to the 3PL, which involves many of the same documentation, alert and update responsibilities as handling things yourself.
Join a retail network. With this final option, a business that specializes in retail supply chain software handles all drop shipping technology on the supplier's behalf. Scaling is immediate and virtually infinite, and the supplier can manage multiple retailer accounts through a single mobile app or web portal. This service comes with a monthly subscription fee, but the high levels of speed, efficiency and scalability it provides can result in excellent long-term returns.
The SPS Retail Network offers a variety of proven solutions for helping suppliers quickly and cost-efficiently adopt drop ship fulfillment capabilities. Please contact us to learn more.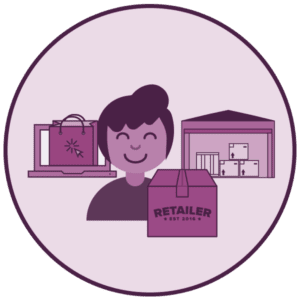 Want to learn more about drop shipping?
Are you a Retailer, Supplier or 3PL wanting to learn more about EDI requirements for drop shipping? Learn about drop shipping benefits, fulfillment options and which electronic data transactions make it work based on your business type.
EDI Guide for Drop Shipping

Scott Bolduc is a multi-time winner of the Supply & Demand Chain Executive Pros to Know. He has worked with e-commerce retailers on their growth strategies and helped retailers transform their freight spending strategies to maximize efficiencies.

Latest posts by Scott Bolduc (see all)
GET WEEKLY UPDATES DELIVERED TO YOUR INBOX.
Subscribe to our blog to receive retail and supply chain news, valuable resources, expert tips and more.
Evaluating Your EDI options: 7 Building Blocks of Full-Service EDI
Get insights on choosing the right EDI solution for your business and the seven components vital for truly full-service EDI.