Get automated with Microsoft Dynamics 365 Finance and Operations EDI.
Increase productivity, decrease costs and scale your business in the cloud.

Industry-leading functionality.
Amplify your Dynamics 365 Finance and Operations system with the SPS Commerce network and EDI platform. Our EDI adaptor takes the complexity and inaccuracy of manual communication off your hands, with a more cost-effective, subscription-based solution that supports functionality around all deployment types. As a cloud-based solution, EDI software is not required, and you'll ensure reliable, seamless communications with the trading partners you care about. No more hassles over EDI testing, spec changes or map updates!
Industry-leading functionality, seamless integration.
Our Fulfillment service for Microsoft Dynamics Finance and Operations is powered by Data Masons, a certified Microsoft Dynamics solution built on more than five years of partnership. You'll gain full EDI compliance with end-to-end support from a dedicated team. Plus, we handle all future compliance requirements, so your maps and compliance labels are always current.
Key Product Features
Our easy-to-use solution makes it simple to maintain relationships with all your trading partners seamlessly and consistently with the latest EDI technology and document standards for exchanging data. Our Fulfillment solution for Microsoft Dynamics Finance and Operations provides:
Seamless data interchange for Microsoft Dynamics Finance and Operations
Established connections to your trading partners using pre-built maps
Ability to add EDI trading partners with ease and confidence
Enhanced data accuracy through automation
A single XML mapping per document type
Rapid and reliable deployment
XML and Flat File data interchange
Data translation for any Dynamics 365 data table
Direct file transportation and FTP

More than 80,000 companies trust the SPS Commerce platform.
Here are some of the results our customers see after implementing our EDI solution:
"Our drop-ship orders are processed more quickly and without the errors of a manual system."
"We've been able to continue to grow our sales without making any drastic changes to our core platform for several years."
"We've dramatically improved our order processing efficiencies."
"That was a huge game changer for us and made our onboarding experience so much better."
"Faster turnaround time, less manual work for us and fewer errors for us, which means fewer chargebacks coming to our company."
"Chargebacks are now an anomaly in our business."
"We are now able to ship in a timely manner."
"Elimination of our EDI backlog, reduced IT costs, and increased efficiencies in serving our retail customers."
"Our retail customers have commented on how doing business with us is even better."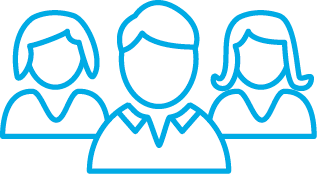 Dedicated to your success.
Connect to us once and integrate with unlimited retailers, manufacturers, suppliers, 3PLs and more. Our Microsoft Dynamics 365 Finance and Operations experts are on hand to ensure your success. With SPS, achieve 100% compliance, so you can do more business.
Get started with Microsoft Dynamics 365 Finance and Operations integration.
Our consultants are standing by, ready to answer your questions about Fulfillment for Microsoft Dynamics 365 Finance and Operations.