Reap the rewards of automation with EDI for JD Edwards from SPS Commerce.
SPS Commerce has a longstanding relationship with Oracle JD Edwards and leverages Oracle's Application Integration Architecture (AIA) to ensure seamless integration. Our solution takes full advantage of "Z-tables" and EDI processes prebuilt in the JD Edwards architecture.
Get clear, simple answers to all your questions about integrated EDI for JD Edwards.
No sales pressure. No commitment.

Connect to all trading partners
Full EDI trading partner compliance
Boost inventory accuracy & sales
Choose the industry's most complete Oracle JD Edwards EDI solution.
Invest in growth, not more data entry. The SPS Commerce Fulfillment EDI for JD Edwards and Oracle connects to other digital technologies and systems with an innovative approach to automation, enabling your company to work smarter, faster, more productively and, ultimately, save thousands in staffing costs.
Exchange sales orders and invoices
Warehouse shipments & other documents
"We moved our EDI operations to SPS Commerce and began using the SPS Fulfillment solution with a JD Edwards system connection. They provide the services we need and we never worry when a customer makes a request. It's taken care of by SPS."
– Naomi Dwyer, VP of information technology of Rapala USA
Pre-configured for all order management models or as a custom solution based on your unique fulfillment requirements.
Meet your bare minimum cloud setup requirements, then leave you to fend for yourself
Don't bother to test or QA your system before handing it over
Don't help with the customer onboarding process
Still require an absurd amount of data entry to use
Have resource-limited data centers that go down during peak surges
Rely on third-party VANs they can't control or toubleshoot
Takes care of the entire implementation process, including testing, migration & production
Rigorously stress-tests everything so your solution works from day one
Proactively onboards your trading partners so you don't have to
Completely eliminates the need for dedicated data-entry staff
Boasts the most resilient, fully cloud-based data centers in the industry
Is the only EDI provider that owns its VAN, ensuring maximum reliability
A full-service, universal, reusable connection that delivers greater functionality with less cost and risk than traditional EDI software.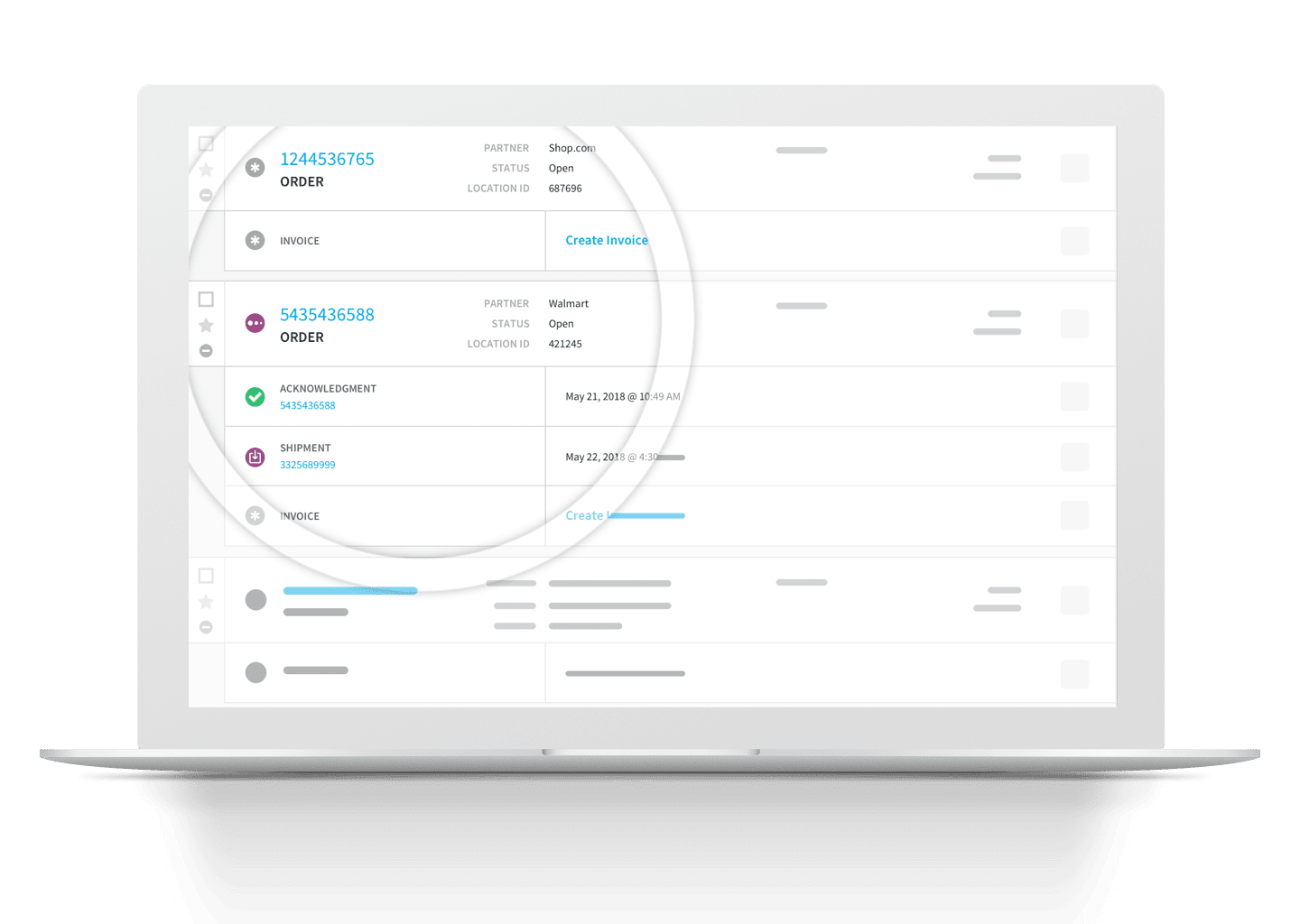 Consistency that happens automatically
Eliminate the need to create unique EDI maps for each transaction, or customer, combination.
Purpose-built, for your unique requirements
Ensure reliability now and into the future with bulletproof maps used by thousands of suppliers daily.
Experience better order management
Put an end to ongoing troubleshooting and minimize chargebacks by sending the right data at the right time.
Get greater functionality at scale
Deploy new customers faster with a system that is already prewired to over 1,500 retailers and growing.
A universal, standard data format
Reduce initial and ongoing operational costs with our Oracle JD Edwards EDI solution.
A trusted EDI outsource solution
One connection that empowers you to do more business with more trading partners.
The only full-service, fully automated EDI solution for Oracle's JD Edwards you'll ever need…
Market-leading, battle-tested, proven technology
A reliable team of technology experts to make it work
Ongoing support to keep it running smoothly
Get started with an automated Oracle JD Edwards EDI solution with SPS Commerce
(You'll hear back in 1 business day)
Join hundreds of companies who have successfully ditched data entry with SPS Commerce
"SPS Commerce understands the retail consumer"
"We went with SPS Commerce because they understand the demands of the retail consumer… You're talking about hundreds of hours a week we won't have to invest—we'll be able to pick, pack and ship much faster, and merchandise can come in and go out literally the same day."
— President and Chief Merchandising Officer, Beyond the Rack
"We've dramatically improved our order processing"
"We've already dramatically improved our order processing efficiencies with TTI and other leading distributors, and look forward to a continued close partnership with SPS worldwide."
— System Manager, AIGO
"We're freeing our team to focus on core strategic opportunities"
"Our goal is to automate as many processes and functions as possible, to free our team to focus on core strategic opportunities. We've recently seen our average customer order volume increase, as well as the complexity of each order… Now instead of adding data entry staff, we're retasking the existing team almost exclusively to proactive business growth efforts."
— General Manager, Apromo Trading
"We have definitely streamlined the shopping experience"
"By using SPS to integrate with our vendors, we have definitely streamlined the shopping experience from ordering through delivery, ensuring that our customers get a great experience no matter what supplier is utilized. Customer service is the No. 1 priority for Rugs Direct. Our increased visibility into vendor inventory levels allows us to accept new orders with confidence!"
— Chief Information Officer, Rugs Direct